Oak Bluffs voters powered through a hefty annual town meeting warrant Saturday, becoming the fifth Island town to approve a ban on plastic bottles, and agreeing to spend millions for more than a dozen capital improvement projects that had been deferred from 2020.
But a request for funds to build a park and ride on town-owned land near Pennsylvania avenue failed after lengthy discussion.
Retiring selectman Greg Coogan got a warm tribute from the town he has served for 18 years.
— Jeanna Shepard
Mostly the meeting went off without a hitch as voters approved a $34 million operating budget, changed the name of the selectmen to select board and approved $315,000 to replace the historic roof under which they were sitting.
Held outdoors at the Tabernacle for the second time in as many years due to the ongoing Covid-19 pandemic, the four-hour meeting kicked off a delayed Island political season on what felt like the first day of the summer.
At noon, voters filed into the Camp Ground in short sleeves, penny loafers and sun hats, happy to sit in the shade as temperatures approached the mid-70s.
Although the quorum was reduced to 50 voters, 150 turned out, with longtime town moderator Jack Law 3rd presiding.
The meeting began with a warm tribute for outgoing selectman Greg Coogan, who had served on the board for six terms before announcing his retirement this spring.
"I would like to take a moment to recognize Greg Coogan, who has given us 18 years of service," selectman Brian Packish said.
Laughing, Mr. Coogan himself led the standing ovation.
Then the meeting got down to business.
Voters readily approved $25,000 to improve the Ocean Park bandstand and $35,000 for improvements to Niantic Park and the Civil War statue. They okayed a $200,000 expenditure as part of a $1 million Massachusetts Seaport Economic Council Grant for traffic and streetscape improvements in the North Bluff area, and backed $1.3 million for a comprehensive wastewater management plan.
The meeting moved so fast that the moderator accidentally skipped article four, which asked for $37,000 for harbor master maintenance. It was no matter; once Mr. Law realized the mistake, the article was also quickly approved.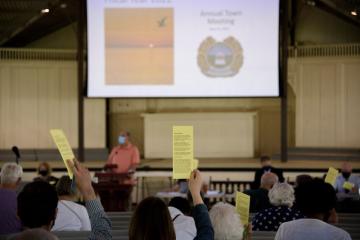 Voters took action on a hefty package of deferred capital spending, approving most articles.
— Jeanna Shepard
Money for police body armor and body cameras were approved with short discussion, as well as an article authorizing the town to acquire easements along Beach Road properties for the construction of a shared use path.
But the meeting bogged down over a $510,000 request to build a park and ride on town property at the corner of County Road and Pennsylvania avenue. The financial advisory committee had recommended a no vote on the article, calling the project incomplete.
"Half a million dollars is a lot of money to pay to put a parking lot two miles out of town if we don't know who is going to use it," advisory committee member Sherry Countryman said.
But the town planning board had backed the project, and chairman Ewell Hopkins urged voters to approve the expenditure, saying it would add about 50 parking spaces for the downtown workforce, alleviating pressures on Circuit avenue.
"This is part of the larger vision to support decongestion downtown," Mr. Hopkins said.
Voters were mixed. After 40 minutes of discussion, Mr. Law called the vote.
"All right, I think we've kind of talked this one out," he said.
The article needed a two-thirds majority to pass, and failed 58-61 after a hand count.
As afternoon set in and stained glass shadows crept over the Tabernacle floor, discussion stretched on over capital spending projects, including money for the Tabernacle roof, $36,000 to add seats to the Sharks baseball stadium, and $68,197 to support regional health and human services.
All were ultimately approved.
School spending articles — at times a point of contention at Oak Bluffs town meetings — were also approved with little disagreement. Voters agreed to put $73,000 toward the purchase of electric school buses at the regional high school, as well as $183,000 to improve technology infrastructure.
In perhaps the only surprise of the day, three articles connected to a student movement to ban plastic and the sale of small plastic bottles across the Island earned the overwhelming support of voters.
The plastics ban had generated considerable concern from the downtown business community amid worry about the economic impacts, especially in light of the pandemic. Business owners had pitched an alternative bylaw that would set up a committee to work on reducing plastics in the town.
"I hope we can come to an agreement," said longtime businessman Bill Giordano.
The working committee was approved, but voters also went on to also approve the voluntary elimination of polystyrene. And when the original plastic bottle ban came up, the argument was made again that bans were the most effective way to eliminate plastics.
Students Quinlan Slavin and Finn Robinson, who have both been involved with the plastics reduction initiative, emphasized the need, noting that it wouldn't take effect until 2022, when the pandemic will have hopefully abated.
"This is something we really need to do right now," Finn Robinson said.
Voters overwhelmingly agreed, drawing applause. Oak Bluffs joins Tisbury, West Tisbury, Chilmark and Aquinnah in approving the ban. Edgartown is set to vote on the measure after postponing it at town meeting last year.
Voters also approved zoning bylaw changes that will allow it to become eligible for state Green Communities funds, and selectman Ryan Ruley moved to dismiss an article requesting to change the town's fire chief position from a so-called strong to a weak chief, after the town's newly-hired chief Nelson Wirtz was introduced earlier in the meeting.
Finally, a sleeper petition article asking the town to withdraw from the Martha's Vineyard Land Bank was dismissed by the moderator as outside the scope of the law. Under the land bank enabling legislation, withdrawing from land bank requires a ballot vote. Instead, Mr. Law called for a resolution vote from the floor on the matter, which saw nearly unanimous support for staying in the land bank.
West Tisbury's town meeting is next up, scheduled for Tuesday, May 18 at the Tabernacle.