Business
Let us know your favorites. We'll add it to this list.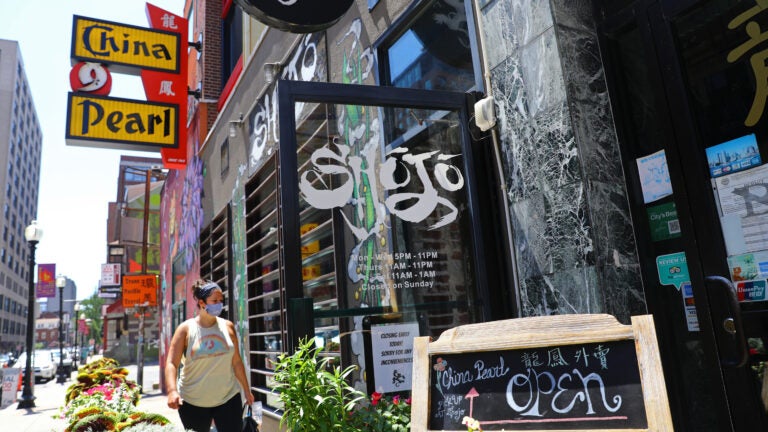 May marks Asian American and Pacific Islander (AAPI) Heritage Month, and this month of cultural celebration comes after a year marred by a nationwide rise in anti-Asian violence. Anti-Asian hate crimes increased by 60 percent in Boston, according to a report by California State University, San Bernardino, and Asian-owned businesses have been hard-hit by the economic downturn as a result of the pandemic, as well as individuals having faced racial discrimination. 
Lawmakers in the state Legislature's House Asian Caucus and civic leaders called on the community to support Asian-owned businesses by spending their money at these establishments, in addition to attending cultural events and celebrations throughout the month of May. 
AAPI- and Asian-owned local businesses and nonprofits are an important part of Boston's community, and several have stepped up in recent months to give back to marginalized people throughout the pandemic. As we continue to celebrate the influence and contributions from the AAPI community, we've compiled a list of small businesses and organizations you can support in the Boston area.
Share your favorite local AAPI- and Asian-owned businesses and non-profits in our survey below or by e-mailing community@boston.com, and we'll add it to our list.
---
Local businesses
China Pearl Restaurant (9 Tyler St., Boston and 237 Quincy Ave., Quincy)
If you're looking for a dim sum experience in Boston, it doesn't get more classic than China Pearl. With dishes like steamed shrimp dumplings and BBQ pork buns, this eatery has been a favorite of many residents since it opened in the late 1980s.
Essex Corner (50 Essex St., Boston)
Located in Chinatown, this crafts store is a great place to find Asian arts and goods such as chopsticks and food dishes, decorative items, and stationery. During the Lunar New Year you can find traditional red envelopes and lanterns, but their year-round selection of cultural products make it a worthwhile visit any time of the year.
Eye Lush (Locations in Boston, Quincy, and Watertown)
If you're looking to pamper yourself, try one of these greater Boston salons. Owner Thuy Leung offers a number of luxury eyelash extension services as well as waxing appointments. 
Hong Kong Supermarket (1095 Commonwealth Ave., Allston)
Can't decide between Chinese, Thai, Indian, Korean, or Japanese for dinner? Try Hong Kong Supermarket, an Asian food market and food court in Allston. The shop is also known by its former name, Super 88 Market, because of the signage above its location. Inside you'll find nearly a dozen stalls offering a host of affordable Asian cuisine. The food vendors are subject to change, but the variety of options means there's always something worth eating. 
Phinista Café (96 Peterborough St., Boston)
This café specializes in Vietnamese-style drip coffee. Owners Yeanie Bach and Phi Pham started Phinista as a pop-up, selling tea and Vietnamese coffee at markets around the city. Their idea has since grown to the brick and mortar location in Fenway where they offer specialties like bánh mì and vermicelli bowls in addition to their classic coffee and crepes — be sure to try the staff favorite drinks like Milk N' Oolong and Berry Matcha N' Milk.
Non-profits and community organizations
AACA aims to provide economically disadvantaged people in greater Boston with education, occupational training, and social services, including English classes and after-school and college preparation programs. The group launched a pilot program during the pandemic to provide training and mentorship to Asian businesses owners in the area. You can support their mission by donating and volunteering your time.
​Asian Women for Health describes itself as a "peer-led, community-based network" that works to Asian women's health. Using education and advocacy work, the group addresses the barriers to healthcare that Asian women face. support them by volunteering, donating, or getting involved in the medical research they support. 
This art gallery and community center is a collaboration with Boston Chinatown Neighborhood Center with the goal of highlighting and celebrating Asian culture. You can visit the center for art exhibits, cooking demonstrations, festivals, and more. 
This non-profit was founded with the goal to serve South Asian immigrants and workers in the greater Boston area. They foster community through youth programming, bi-monthly Chai Addas, or organizing meetings, and in the past year, COVID-19 relief fundraising. The group is always looking for donations as well as volunteers to help with events, photography, videography, social media, and fundraising.  
VietAID (42 Charles St., Dorchester)
The Vietnamese American Initiative for Development was founded in 1994 by community leaders and residents who wanted to create affordable services to the Fields Corner community. They offer childcare services, youth leadership programs, immigration support, as well as opportunities for the greater Boston community to celebrate Vietnamese cultural traditions. You can support this group by volunteering and donating, as well as participating events like anti-Asian racism workshops.
---
We'll continue to update this list with your suggestions. If you have a favorite business or group you don't see here, let us know below or e-mail community@boston.com.
Newsletter Signup
Stay up to date on all the latest news from Boston.com